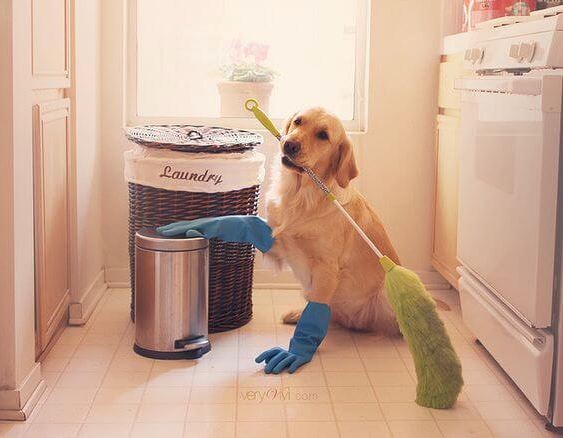 Inexpensive, Yet Effective: Cost-Conscious Cleaning Tips for Dog Owners
If you're extremely fussy about the state of your home, owning a dog can place a major strain on your patience. Every breed has its upside, but taken as a whole, dogs just aren't the cleanest of animals. If a wagging tail, happy face, and cute floppy ears can make you forget the constant upkeep and periodic frustrations, then read on: you're an avowed dog lover and will benefit from a little cost-friendly advice on maintaining a clean home.
An ounce of prevention
One way or another, you'll have to deal with dog hair. You can confront it later once it gets on the furniture, or you can go after it sooner. Get yourself a quality dog brush or hair glove for under $25 and get rid of your pooch's dead, loose hair before it settles on the furniture, in the corners of every room, and in air ducts. Regular grooming collects all that hair before it can cause problems for family members who have a special sensitivity to hair and pet dander. Applying a brush to your dog's hair and skin will also release natural oils that will keep dry skin particles from getting loose and polluting your home environment.
Giving your pup a bath at least once a month (or more if necessary) will also help control hair and dander and keep his skin from drying out and producing flakes. You can save a few bucks by making your own doggie shampoo with nothing but a cup of white (or apple cider) vinegar, a cup of baby shampoo, or dish soap (nontoxic) and a quart of water.
Put your vacuum to work
If you have carpeting throughout your home, you need to know that it's a haven for parasites like fleas and mites, pet dander, and dog hair, which can be an ongoing threat to your indoor air quality and to anyone who suffers from asthma and other respiratory issues. If you don't have a powerful vacuum cleaner, you'll need one to keep all those household pollutants and dog-related dander under control, but take the time to read product reviews to make sure you're getting the right product for your situation.
Cleaning station
Dogs, especially long-haired ones, tend to pick up a lot of debris from the lawn that gets strewn throughout the house if not cleaned up right away. Keep a cheap throw rug that can be tossed in the washing machine by the back door where you can run a towel over your pet, wipe off muddy paws, and give him a few strokes with the brush before allowing him back in the house. Keep your little cleaning station stocked with supplies, including old towels and washcloths.
Emphasize natural cleaners
You may not be aware of it, but there are probably some powerful cleaning agents right in your kitchen cabinets. These are agents capable of removing even the most noxious, deep-set stains and of counteracting powerfully pungent odors produced by dog waste. Baking soda, vinegar, and lemon juice are effective and reliable substances that can render store-bought cleaners unnecessary, and that's a good thing if you're talking about cleaners that include environmentally damaging chemicals.
Simply sprinkle baking soda on affected carpeting or furniture and let it do its work. You can also create a cleaning spray with a combination of water and vinegar, which is also good at eliminating tough stains. If baking soda and vinegar simply won't do the trick, look for pet-specific cleaners through sites like Chewy or Amazon, which typically offer lower prices than brick-and-mortar retailers.
It's surprising how helpful simple, inexpensive cleaning materials can be in keeping dog hair and other waste under control inside your home. By using simple things like baking soda, brushes, washable throw rugs, and homemade shampoo, you can keep the pristine home you spend so much time keeping clean from being overwhelmed by the family pet.
Does your pooch need extra attention during the day when you're away? Help him get out the wiggles and make new friends through Whiskers to Tails Petsitting. You can easily book our services online through our client portal. Contact us today to get a quote! 763-746-8872
Contributing author Tyler Evans is a proud dog papa to two German Shepherd rescues and the creator of DogZasters.com. He created the website to showcase the funny, sometimes messy, side of being a dog parent. He hopes the website will bring joy to those who visit it and encourage people to welcome the love of a dog into their lives.
https://whiskerstotailspetsitting.com/wp-content/uploads/2015/03/WTTP_Logo-2015_Horizontal.png
0
0
Whiskers to Tails Petsitting
https://whiskerstotailspetsitting.com/wp-content/uploads/2015/03/WTTP_Logo-2015_Horizontal.png
Whiskers to Tails Petsitting
2021-05-17 19:42:19
2021-05-17 19:42:19
Spring Cleaning Tips for Pet Parents